According to JLL, Vietnam's logistics industry has a positive outlook when it is interested by many investors, in the past 1 year, there have been nearly 3 billion USD invested in logistics systems and modern logistics centers. Sharing about the current situation and future trends of Vietnam's logistics industry at the last forum, businesses were shared about the current situation and future trends of Vietnam's logistics industry.
In 2020, due to the impact of the COVID-19 epidemic, from the policy of isolating and restricting movement, the logistics industry has made great progress when the demand for domestic transportation and delivery is increasing. higher. By 2021, the movement of goods from import and export to consumer goods, along with the development of e-commerce platforms, will continue to create a growth trend for the industry. In addition, in parallel with transportation, warehousing is an indispensable infrastructure in the service supply chain of the industry with a prominent trend is the increasingly widespread development of logistics centers.
Mr. Le Duy Hiep, Chairman of the Vietnam Association of Logistics Services Enterprises, said that in the past, warehouses existed in a single small-scale format, only serving the needs of each business. The current trend is that businesses shake hands with each other or industry leaders invest in large-scale warehouses, integrating multiple storage functions in a center called logistics center. Second is to strengthen governance by information technology and automation. Third is the application of green logistics, ie renewable energy, to the management and operation of logistics centers and warehouses.
Vietnam's logistics market is developing at an elementary stage, but modern and high-quality logistics centers will soon develop in the next few years. Ms. Trang Bui – Senior Director of Vietnam Market, JLL Vietnam commented: Previously, investors and businesses did not care about the age of logistics centers, but when the requirements were increasingly stricter. more, the basic infrastructure will not be able to meet customer needs. Therefore, investors will calculate the age and cost effectiveness of logistics centers to serve the supply chain, in which construction materials will pay more attention to ensuring the safety of goods contained in warehouse.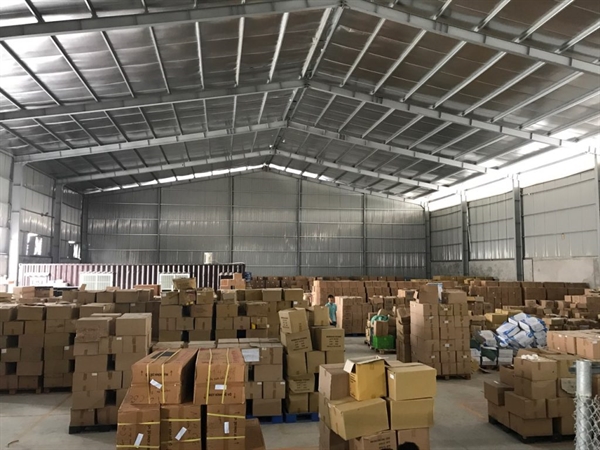 Currently, BlueScope Vietnam is an industry leader in providing high quality steel solutions to meet the increasingly demanding needs of logistics plants, not only in Vietnam but also factories worldwide. gender like DHL. , Kerry, Mapletree, BW, FM Logistics, Kizuna … BlueScope's solutions include corrugated iron materials with outstanding durability and quality along with roofs, walls and other advanced solutions to bring optimal efficiency for owners. invest. On average, out of 10 BlueScope projects deployed in Vietnam recently, there are 5 projects that are warehouses for logistics activities.
Mr. Vo Minh Nhut, General Director of NS BlueScope Vietnam shared: Construction materials and solutions are two important factors that determine the quality of logistics plants. Therefore, to further improve the quality of the corrugated iron materials, after more than 22 years of research with an investment of more than 100 million Australian Dollars (AUD), we have pioneered the introduction of activated plating technology including Four-layer matrix. The steel sole protector is integrated in the COLORBOND high-grade corrugated iron product, along with the improved coating to increase the dust-proof ability and optimize the heat resistance of the roof through cleaning and self-cleaning technology. . Thermatech solar reflecting technology. We also have a LYSAGHT solution with a fully integrated roof system, completely without screws directly through the roof …